Celebrities are often seen glammed up and styled by the most famous fashion designers and stylists. They often spend their credit cards on the best styles, best makeup, and best skincare routines. On their days off, they also like to spend it just relaxing without the pressure of covering up some of their blemishes and imperfections.
Some days it's just nice to skip the beauty routine and allow yourself to breathe. A lot of stars have been hesitant to show their natural skin, but some have been praised for how good they look without filters or sunglasses to cover their faces.
The "I woke up like this" and "no make-up look" began and we were able to see a glimpse of our favorite stars without any makeup on. Hollywood celebrities willingly jumped on the bandwagon and posted photos of their bare faces on social media. We'd often see these photos taken after their work out routine or after they've just woken up.
Here is a list of some celebrities that will inspire you to give your bare face a chance and let your skin be free for some time.
Drew Barrymore | 45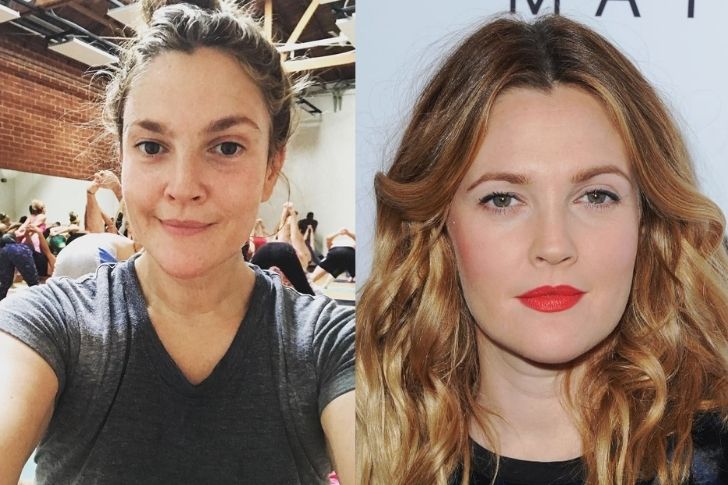 Actress, TV producer, model, film director, screenwriter, author, film producer, and voice actor Drew Barrymore has been in the industry since she was a child. The actress has been in the spotlight, working in TV and film her entire life. One wonders if she has ever lived a day without any makeup on. The actress, who is famous for her role in E.T. : The Extra-Terrestrial, has put investments into her own range of cosmetics under her Flower banner in 2013, which includes makeup, perfume and eyewear.
Though the actress has a cosmetic line of her own, Barrymore often opts to go bare-faced to inspire her daughters and even her fans all over the world to keep a positive body image.Barrymore has been receiving praise for bravely going bare-faced. Some say she is perfectly "keeping it real" and being "impressive" by showing how she really looks with a few grey hairs. If there is one thing they can say to Drew, it's that she is not afraid to show how a "real woman" looks.