The world is full of mysteries. You may have encountered someone who looks really familiar just for you to realize that the person actually looks like you. Some even claim that they look like a certain celebrity.
Well, it can be true because this article can prove that even celebrities have their doppelgangers. Some may have even existed before you were born. In this gallery, you can see different celebrities and their doppelgangers that have lived even decades before them. While for some, they don't just look alike. They even have the same hobbies and careers.
Eddie Murphy and an unknown man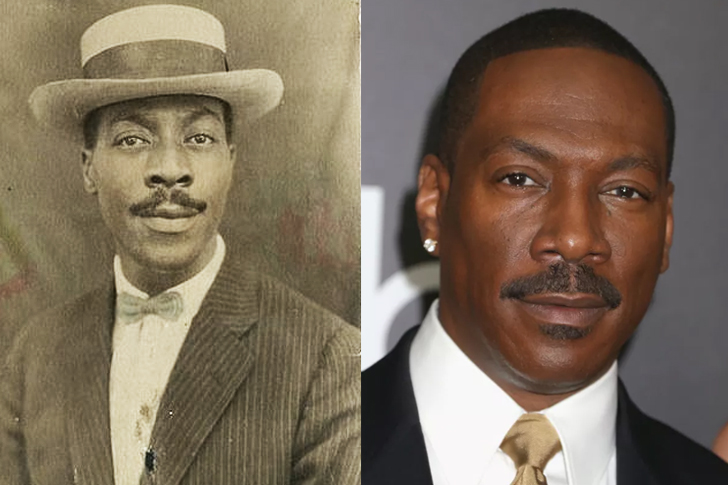 Who would have thought that this unknown man would look like Eddie Murphy? It looks like Eddie has just taken a photograph and printed it in sepia. As we all know, Eddie Murphy is a famous actor, comedian, producer, singer, and producer. His career kicked off as a comedian doing stand-up comedy in the early months of 1970. As inspiration, he mentioned that he listened to Richard Pryor's albums when he was just 15-years-old. Also, he became a regular cast member on Saturday Night Live and was pointed out as someone who is a breath of fresh air into the show during the 1980s. He also has done voice acting, and one of his famous roles is Donkey in the movie Shrek. Now, his current net worth is estimated to be $120 million. Safe to say that bankruptcy is quite far for this famous comedian.
Anne Hathaway and Spanish Painter Francisco Jose de Goya y Lucientes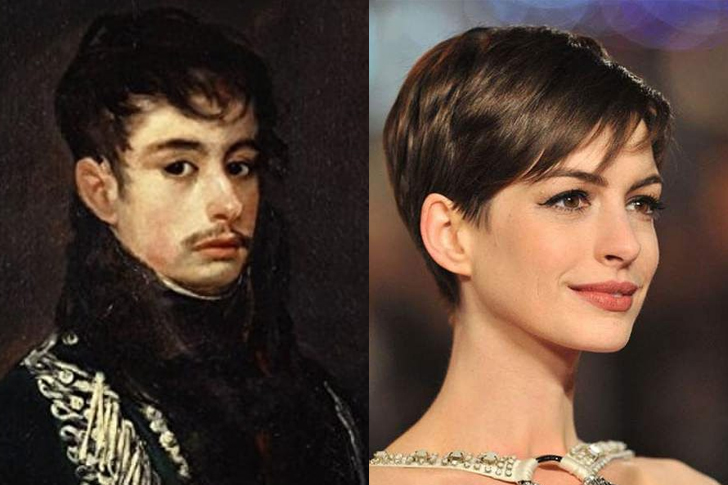 One of the famous actresses and singers in Hollywood is Anne Hathaway. She has been dominating the Hollywood scene for the past two decades. Anne has starred in multiple successful films such as The Princess Diaries, Bride Wars, Devil Wears Prada, and Ocean's 8. With that, she has a net worth of $35 million. On the other hand, her doppelganger Francisco Jose de Goya y Lucientes was a Spanish Romantic painter who was considered to be the most important painter in the 18th and 19th centuries. His engravings, drawings, and paintings have reflected the contemporary evolution that had major influence on some of the best painters in the 19th and 20th century.
Peter Dinklage and Sebastián of Morra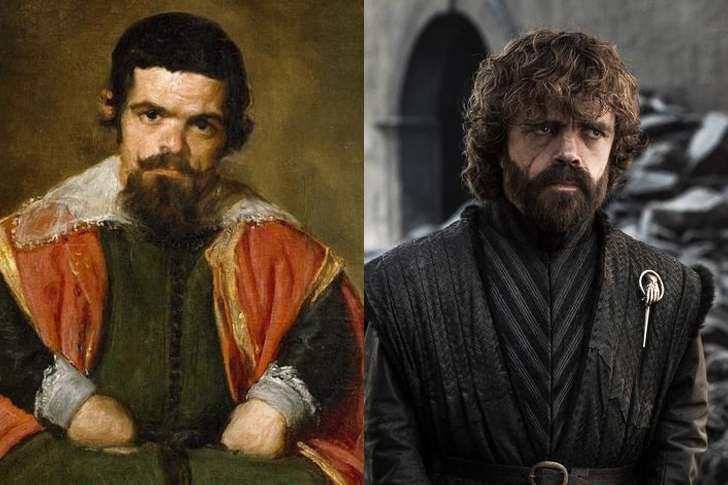 Peter Dinklage is next on the list. His doppelganger Sebastián de Morra doesn't have much of information. But what the records revealed is that he is the court jester of Philip IV. The portrait was done by Diego Velasquez, which enabled us to see how he looks. He does look like the American actor Peter Dinklage. Dinklage is one of the award-winning actors in Hollywood. His debut film is Living in Oblivion in 1995. He then had multiple roles in different films and TV series. Of which are Penelope, Underdog, Pixels, and the most recent one is Avengers: Infinity War. Also, he is famous for playing the role of Tyron Lannister in HBO's acclaimed TV series Game of Thrones. In fact, he already won a Golden Globe. Moreover, Dinklage is far from having problems with loans and bankruptcy, as his finances are doing well for him. Having a net worth of $15 million, it's safe to say that it is all good for this little guy.
Ellen DeGeneres and Henry David Thoreau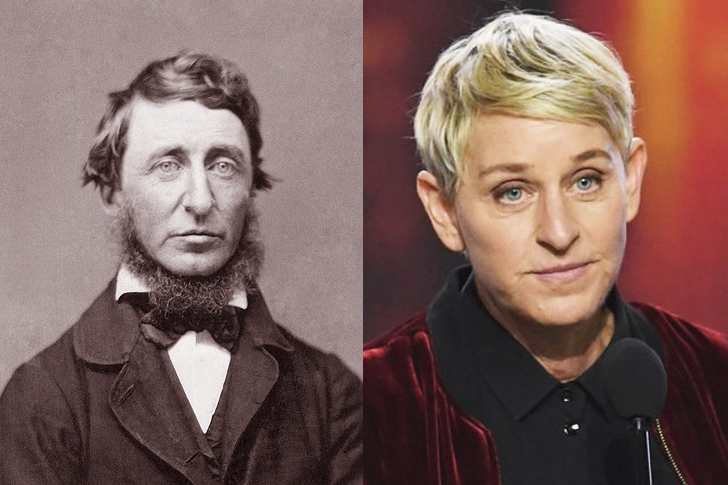 It might be quite odd considering their genders are different, but who would have thought that Ellen DeGeneres and Henry David Thoreau would look the same? They have an uncanny resemblance with their soulful, bright eyes. In case you wonder if they are related, well unfortunately, no. Ellen is an American celebrity who is known for her edgy sense of humor. Aside from acting, she is hosts her longest-running talk show, Ellen. Thanks to her talents, she has garnered $450 million as net worth. On the other hand, Henry David Thoreau is a poet, historian, and author, which he is best known for his book Walden.
Liam Neeson and Fidel Castro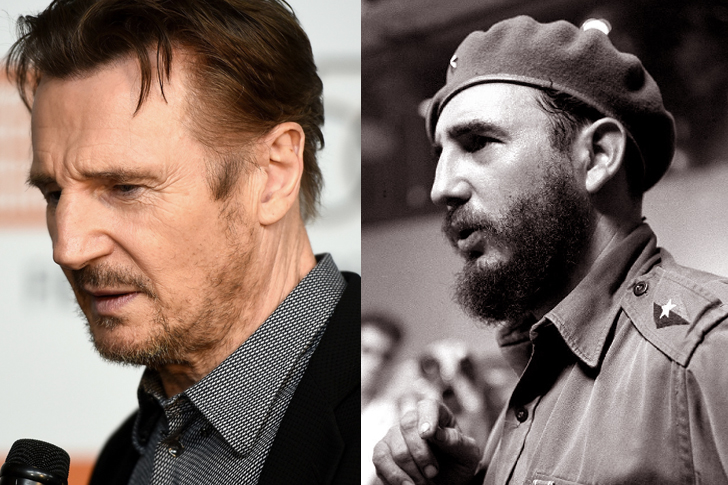 Next on the list are Liam Neeson and Fidel Castro. No, Liam does not act as a Cuban dictator on his spare time, but the resemblance is quite strong. Both of them obviously have good looks with prominent nose. Liam is from Northern Ireland and as many would know, he had been nominated for many awards. He was even considered to be one of the 100 hottest stars in the history according to Empire magazine. Having multiple famous roles such as the protagonist of the 1993 movie Schindler's List as well as in Star Wars: The Phantom Menace, Liam has a net worth of $85 million. Meanwhile, his doppelganger Fidel Castro is a communist revolutionary who rose into power in Cuba. He has been considered to be one of the longest-serving heads of the state who was not a royalty as he served from the 1950s until his death in 2016.
Christina Aguilera and Ginger Rogers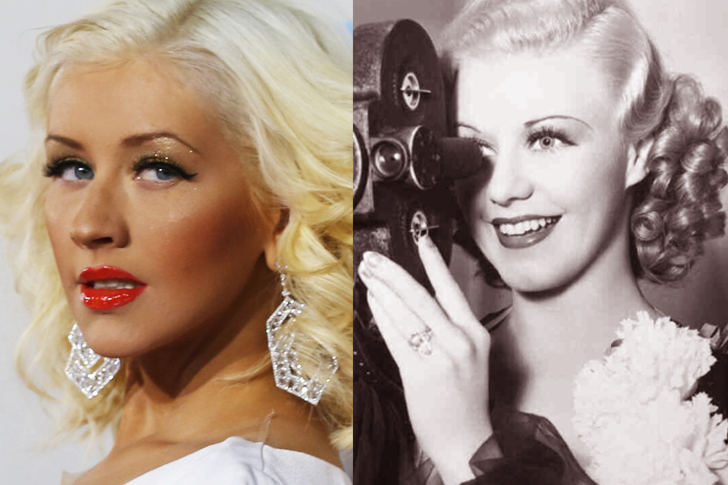 Both having a prominent jawline and beautiful eyes, Ginger Rogers and Christina Aguilera is the next pair. Both are excellent dancers, singers, and entertainers. Not only do they look alike but they also share the same talents. Aguilera was able to earn a $130 million net worth, thanks to her records that had been sold for more than 75 million. As for Ginger Rogers, she was a famous American celebrity during the 1940s. She was known for her role in the movie Kitty Foyle, and also for performing in many musical films during her showbiz life.
Nicolas Cage and person from the Civil War Era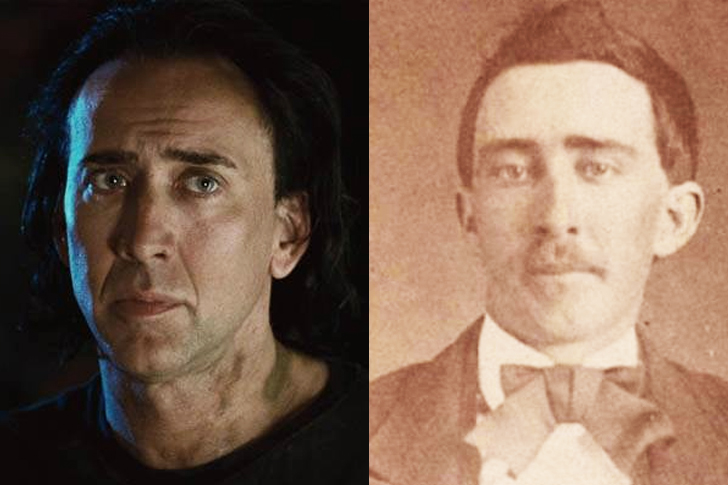 The strange resemblance of Nicolas Cage and a person whose photograph was captured during the Civil War Era is astonishing. Who would expect that a man living in the mid to late 1800s would resemble the famous celebrity? Born as Nicolas Kim Coppola, Nicolas has been working as an actor and has a net worth of $25 million. He played different roles since his debut in 1982. Not only is he an actor, but he is also a producer and director. His debut film as a director is Sonny. Also, he is active in his charity work.
Christian Bale and an unknown man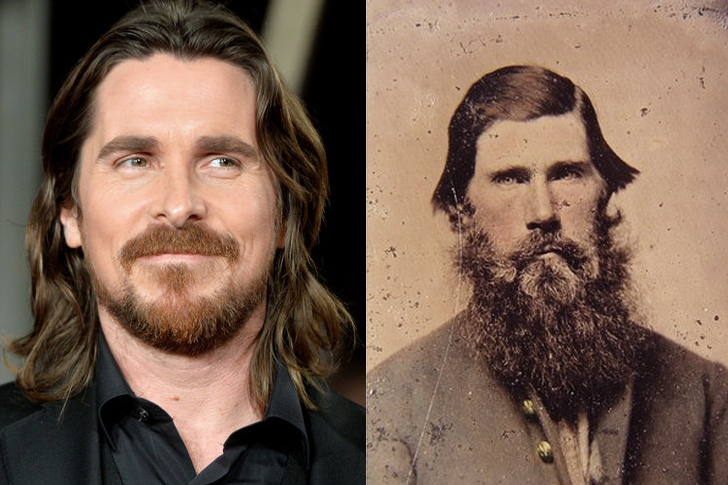 This unknown man has so much in common with Christian Bale. The unknown man in the photographed is estimated to live around the 1800s to the early 1900s. They both have a resemblance especially their eyes, as well as the shapes of their faces. Having a net worth of $80 million, Christian has starred in multiple successful films and one of which is the Dark Knight franchise. Aside from being an actor, he is also an advocate for the environment and supports many environmental groups including the Sea Shepherd Conservation Society, Greenpeace, and the WWF.
Queen Latifah and Zora Neale Hurston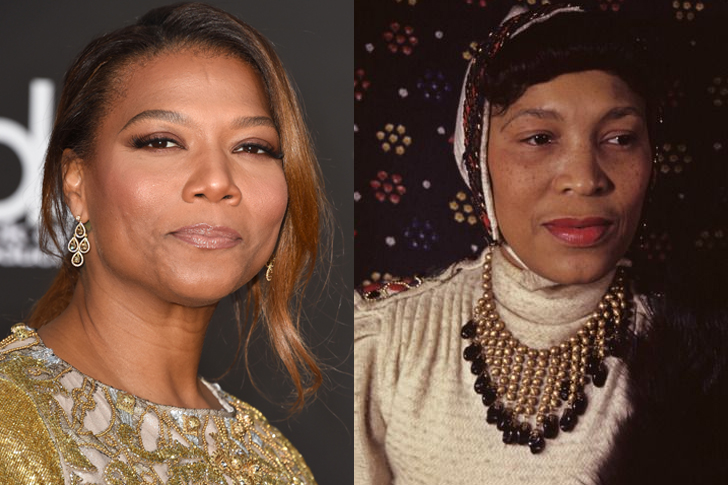 The next set of celebrity look-alike is Zora Neale Hurston and Queen Latifah. Zora Neale Hurston is known as an influential author of African-American literature, an anthropologist, and filmmaker who portrayed the racial struggles in South America in the early 20th century. On the other hand, Queen Latifah is known for her acting and rap music. As a matter of fact, her debut album made a huge hit with over 1 million copies sold. Thanks to her talent in both acting and music, she had a net worth of $60 million. Money management is quite easy for Queen Latifah as no signs of bankruptcy has been found.
Orlando Bloom and a Romanian painter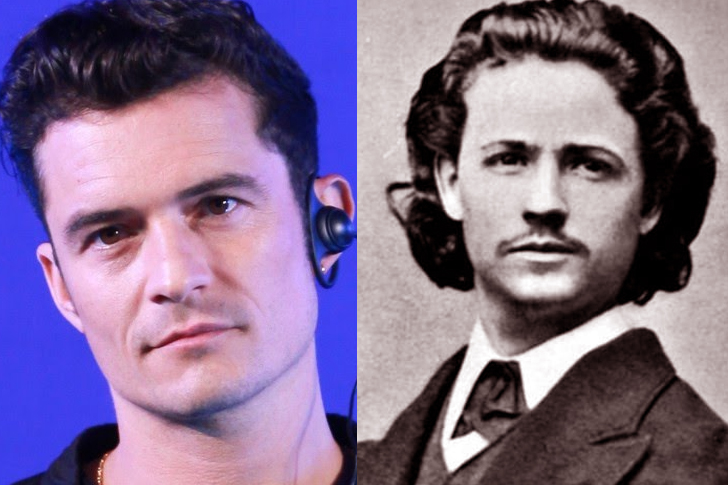 This well-known Romanian painter namely Nicolae Grigorescu must be sought after during his time. After all, he does look like Orlando Bloom, who is one of the hottest Hollywood celebrities today. He is an English actor who made his breakthrough roles in franchise movies. Franchise films such as The Lord of the Rings and Pirates of the Caribbean are among his successful projects as an actor. Not only that, he is also proficient in theater and humanitarian work. He gained $35 million as net worth and is currently producing films. Nicolae Grigorescu, on the other hand, is the father of modern Romanian painting. He died while painting his artwork entitled The Return from the Fair.
Paul Giamatti and William Shakespeare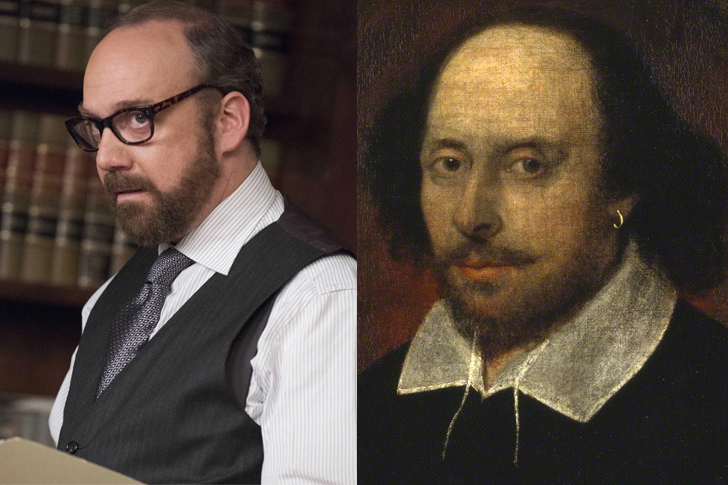 Who does not know William Shakespeare? The playwright, English poet, and actor is known worldwide. Centuries after his death his name is still always remembered. Among his greatest works are Macbeth, Hamlet, and King Lear. Now, who would have thought that Shakespeare has a doppelganger in Hollywood? Paul Giamatti not only shares the same features with Shakespeare but also shares the same talents. Paul Giamatti is also working in the entertainment industry. Having a net worth of $25 million and no signs of bankruptcy, the actor and comedian had gathered numerous acclaims including an Emmy Award, an Actor's Guild Award, and the Golden Globe Award.
Vincent Van Gogh and Chuck Norris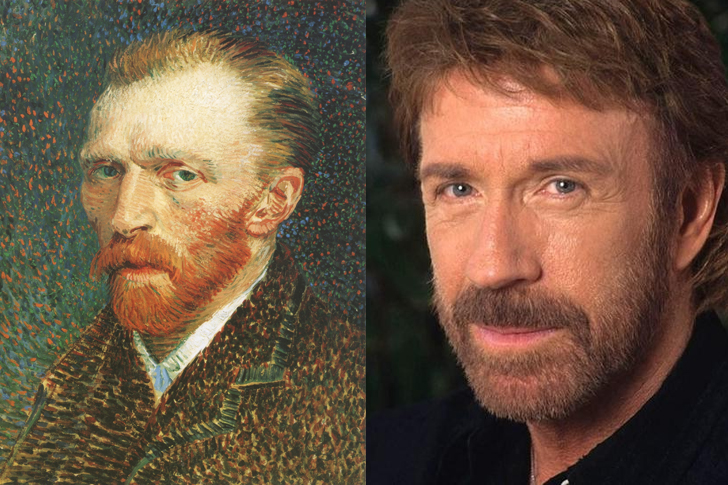 Both of them are quite famous in their professions. Vincent Van Gogh is a famous painter that has been considered as the best. One of his famous works is his self-portrait in 1887. Also, he painted Starry Night. Chuck Norris, on the other hand, is famous as an action star. He already appeared in numerous films and his most unforgettable role is from the movie The Way of the Dragon when he played alongside Bruce Lee. Not only is he a great actor, he is also a proficient martial artist and a prolific writer. In the past, Norris had made numerous best-sellers including self-motivating books. Thanks to his talent and for being an artist, Chuck has a net worth of $70 million. Both truly shared something in common, not just their looks.
Maggie Gyllenhaal and Rose Wilder Lane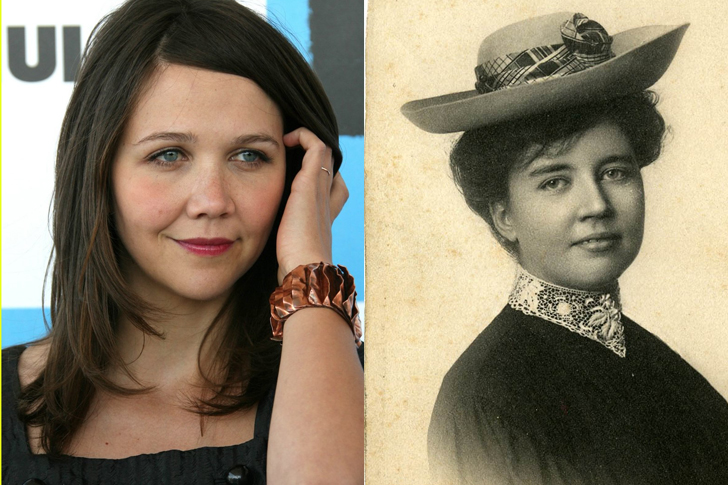 Both excellent in their fields, these celebrity doppelgangers have proven to everyone that they are also alike when it comes to their careers. Rose Wilder Lane, is an American Journalist and political activist. Aside from that, she is also a prolific writer and was known for her novels Young Pioneer and Free Land. Maggie Gyllenhaal, on the other hand, is an American Celebrity who has a $15 million net worth. She is the older sister of Jake Gyllenhaal and a well-respected actress in Hollywood. During her free time, she is also a political activist herself who supports a lot of charities. Not only do they have the same face features, they also share the same interest.
Jimmy Fallon and Mahir Cayan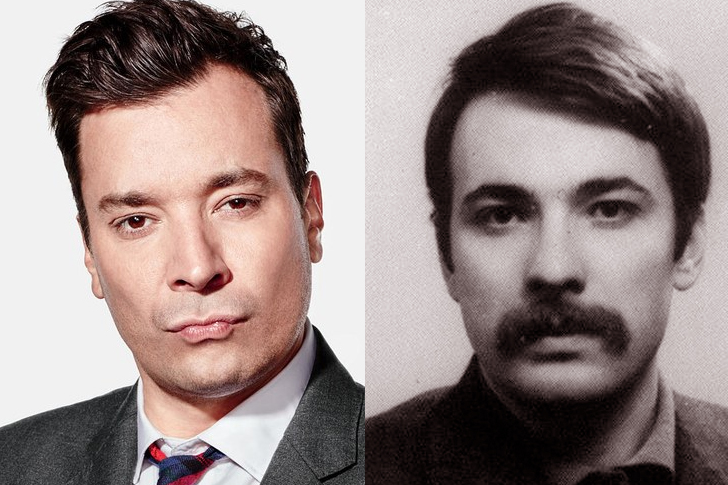 These two have careers that are quite far from one another. Nevertheless, they both look alike. Mahir Cayan is a Turkish communist revolutionary who passed away at a young age due to his beliefs. He led a group of people until his death in 1971, against the oppressive Turkish government. As for his doppelganger, Jimmy Fallon, he is a famous American comedian, singer, host and a television actor. Famous for his show The Tonight Show, he also starred in numerous films including Fever Pitch and Taxi. With that, he currently has a $45 million net worth. His show has already been running for a long time now. No bankruptcy has been filed, and it is safe to say he handles his money pretty well.
Matthew McConaughey and this Redditor's great-great-grandpa
One Redditor once posted that his great-great-grandfather looks like Matthew McConaughey. True enough, they do. We're not quite sure if they are related, though. But the resemblance is strong. As many would know, Matthew McConaughey is a Hollywood celebrity who was born in Texas. His first breakout role is in the movie Dazed and Confused way back in the early 1990s. Since then, he had been getting roles in many films especially in romantic comedy genres. He had a lot of successful movies such as Failure to Launch, The Wedding Planner and Fool's Gold. He received a lot of credits for his work in television and film, including a Golden Globe Award and a Primetime Emmy Award.
Rupert Grint and Sir David Wilkie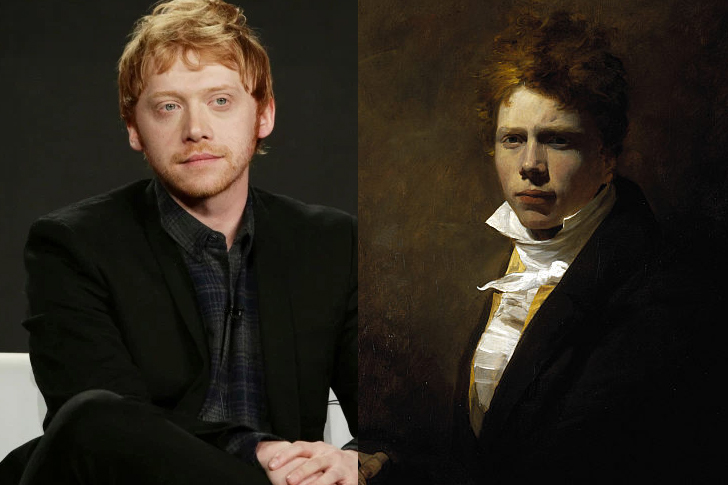 Aside from looking like each other, both of them are also great artists. David Wilkie is a famous painter in the 19th century. He is said to be a flexible artist with regards to the genres that he painted. He also traveled a lot and was the principal painter of Queen Victoria. Rupert Grint, on the other hand, is a famous British actor who played the role of Ron in The Harry Potter film series. His net worth is $45 million and he handles his finances well. Aside from being an actor, he is also a musician and is very active in charity.
Jennifer Lawrence and Zubaida Tharwat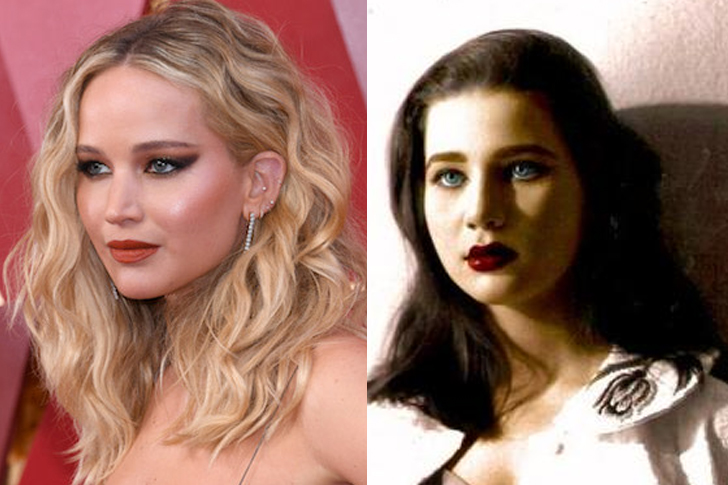 Both of them do not only look alike, they also have the same careers. Some of the best features that they share are their beautiful eyes, well-defined cheekbones and that gorgeous smile that could melt many hearts. Zubaida Tharwat is an Egyptian actress that is famous in Egypt. She had gotten different nicknames such as the "Magic Eyes," and the "The Queen of Romance." True enough, her nicknames compliment her beauty. As for Jennifer Lawrence, she is one of the most prominent actresses in Hollywood. She has a net worth of $130 million at the age of 28. Thanks to her great talent, she rose to fame as she played the role of Katniss Everdeen in the Hunger Games movie franchise.
Dorothy Dandridge and Halle Berry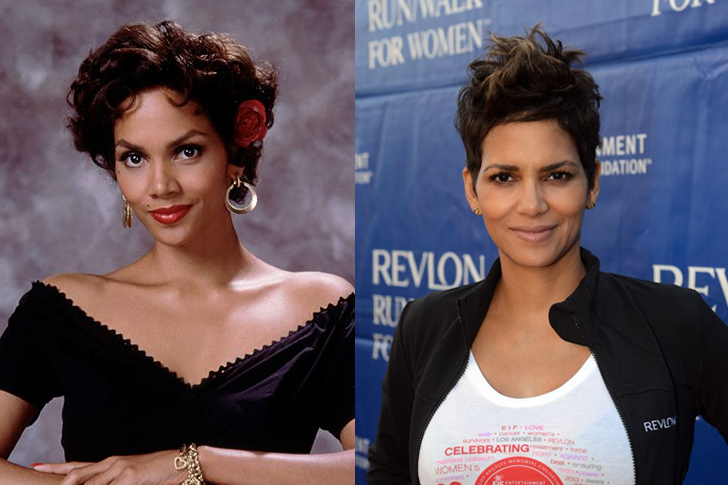 Who does not know Halle Berry? The beloved Academy Award-winning African-American actress is no doubt one of the best In Hollywood. Playing different roles in mostly successful movies such as Catwoman, X-men, and Monster's Ball to name a few enabled her to have an $80 million net worth. Her performance in Monster's Ball has made her the first-ever African- American woman to win an Academy Award. Dorothy Dandridge is also a famous American theater and film actress as well as a singer and dancer. She is said to be one of the best African-American actresses that starred in top films such as Bright Road, Porgy and Bees and, Carmen Jones.
Maisie Williams and Redditor's Grandmother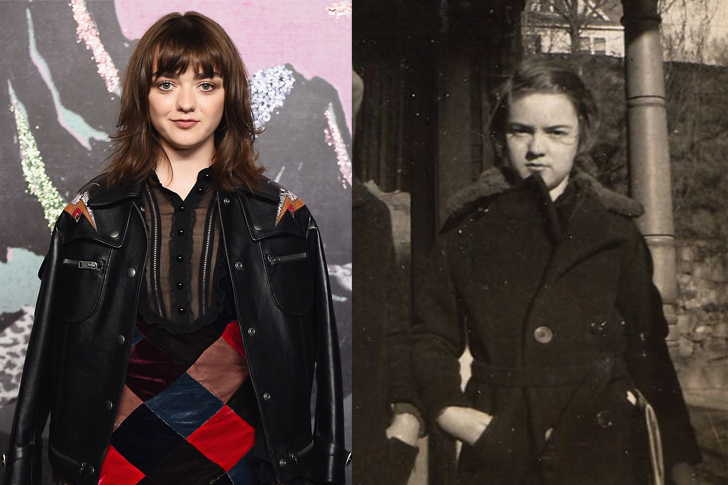 One of the most promising actors today is Maisie Williams. For those of you who do not know who she is, she is an English actress who played Arya Stark in one of the biggest TV series, Game of Thrones. She had won so many awards for her performance in the series including an Emmy Award for Best Supporting Actress, a Saturn Award and a Portal Award for Best Young Actress. She has a net worth of $6 million as she is earning a reportedly $150,000 per episode. Good for her that as young as she is, she does not have any signs of bankruptcy. As for her doppelganger, she is a Reddit's user's grandmother whose photo was taken decades ago. A lot of resemblances can be seen in both images.
Adrien Brody and English Philosopher John Locke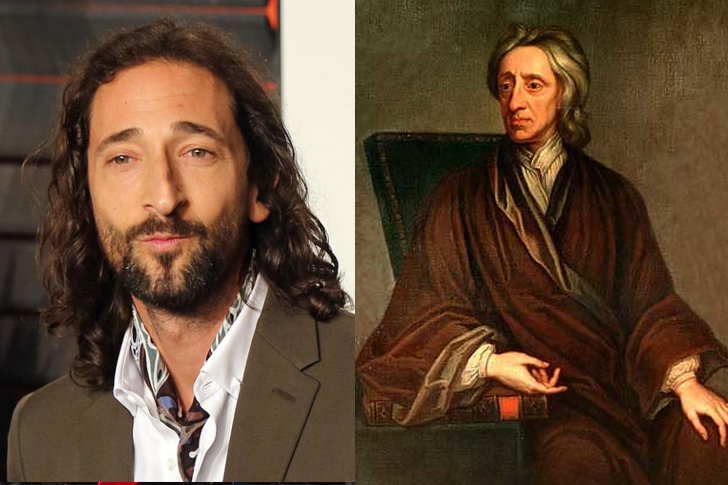 A renowned actor and producer, Adrien Brody has starred in different Hollywood films. He is known to be the youngest actor to ever win an Academy Award for Best Actor for his performance in The Pianist.  Since then, Brody has been starring in multiple films and TV series. Thanks to his talents, he had a $16 million net worth and money management is quite easy for him since he does not have any bankruptcy and huge loans issues. As for his look-alike, John Locke was an English philosopher. According to many, he is one of the most influential thinkers during his time. He even earned that nickname "Father of Liberalism."
John Krasinski and Australian Journalist Carl Feilberg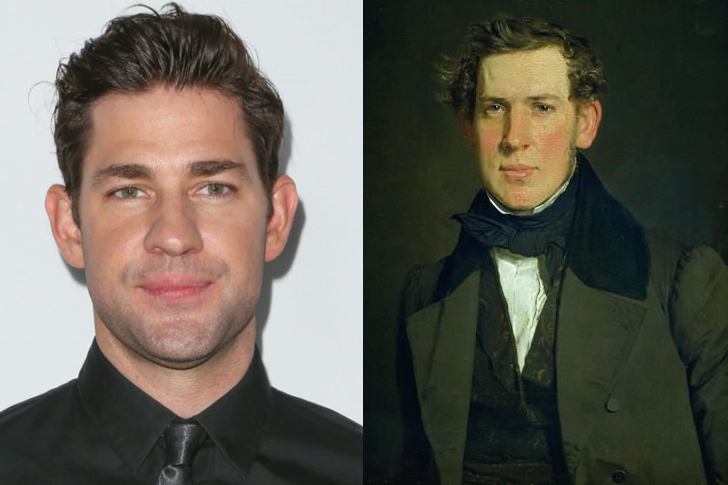 These next two lookalikes also share a promising career in their respective fields. The Office star who played the role of Jim Halpert is also a director and co-writer of different movies. John is a much-loved Hollywood actor who has proven himself in the industry. Thanks to his great money management he has a $30 million net worth. As for his doppelganger, Carl Feilberg, he was a Danish-born Australian journalist who is known for his works as an Australian indigenous rights activist. He used his influence and voice to fight for the rights of the indigenous people.
Robin Williams and Russian Zoologist Ilyich Mechnikov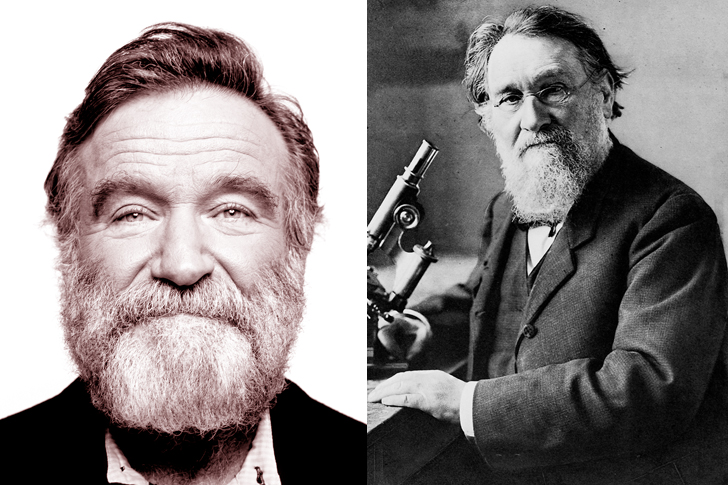 The late Robin Williams also had a doppelganger. His look-alike is the Russian zoologist Ilyich Mechnikov. Williams is one of the most prominent actors in Hollywood. He started his career doing stand-up comedy in the 70s and earned his name as one of the funniest men in Hollywood. He has done multiple roles in movies. However, he committed suicide in 2014. Meanwhile, his doppelganger is a renowned Russian zoologist who is well known for his extensive pioneering research in immunology. He is recognized in history, as he was able to discover phagocytes which earned him a Nobel Prize in Physiology in the early 20th century.
McKenna Grace and Kiernan Shipka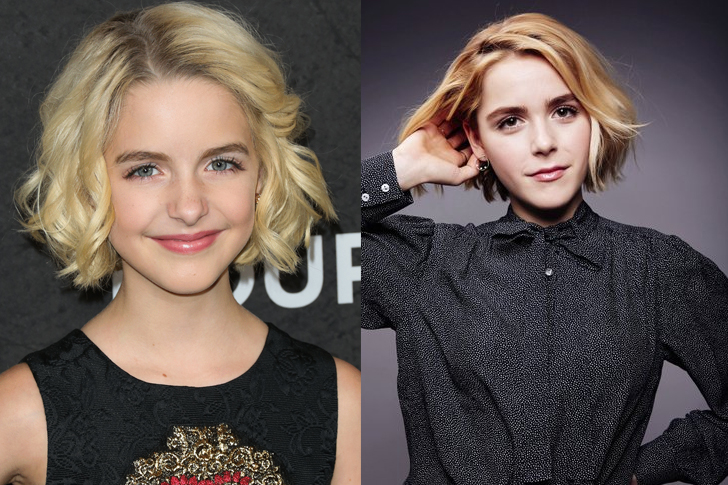 Some claimed that they cannot tell this two apart. The child star Mckenna Grace was spotted resembling Kiernan Shipka during her Sally Draper days in Mad Men. Shipka is an American actress who is currently known for starring as Sabrina Spellman in the Netflix supernatural series The Chilling Adventures of Sabrina. Mckenna Grace, on the other hand, is a child actress who began her acting career at the age of six. Some of her roles include the Disney XD sitcom Crash & Bernstein and played the role of Faith Newman in the soap opera The Young and The Restless.
Bryce Dallas Howard and Jessica Chastain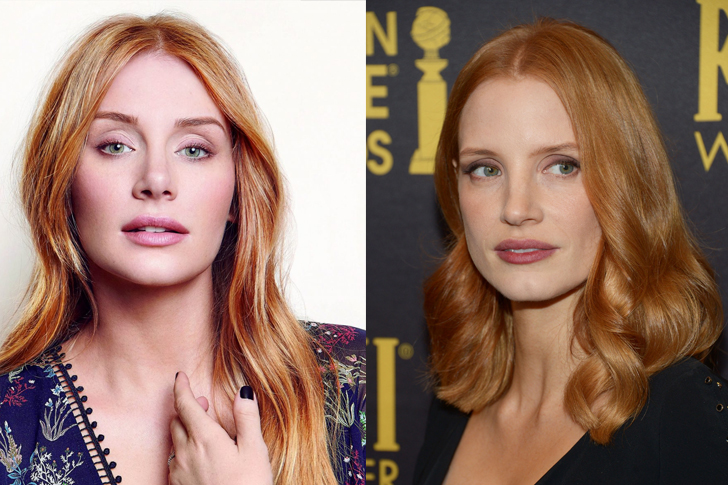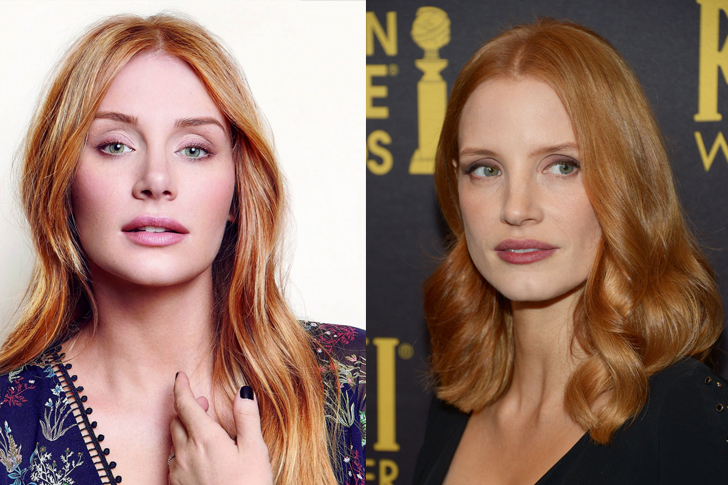 These two do not only look alike but they also have a lot in common. Not only are they actresses, but one is also a director and the other one is a producer. Bryce Dallas Howard is an American actress and director. She is the eldest daughter of the actor and director Ron Howard. She studied in New York University's Tisch School of the Arts but left before graduating to take roles on Broadway. With her talent, she earned a $15 million net worth. As for her doppelganger, Jessica Chastain is an actress and a producer. Her accolades include two Academy Award nominations and a Golden Globe Award.  Her name was even included in Time Magazine's 100 most influential people. Both of them must handle their finances well as no signs of bankruptcy were reported.
Rob Lowe and Ian Somerhalder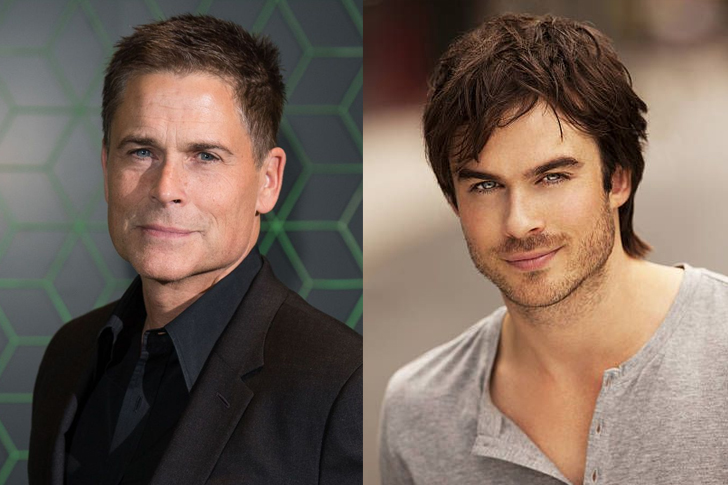 Both share a tousled dark hair and bright blue eyes that some even thought that these actors are related. Not only do these two share good looks, they also share great talent when it comes to acting. Reportedly having a $60 million net worth, Rob Lowe is an actor, director, and producer. He is a recipient of two Screen Actors Guild Awards and has been nominated for six Golden Globes Awards as well as a Primetime Emmy Award. As for Ian Somerhalder, the American actor played multiple roles, especially in TV series. Of which is the role of Boone Carlyle in the TV drama Lost, and in the CW's supernatural drama The Vampire Diaries as Damon Salvatore.
Sarah Hyland and Mila Kunis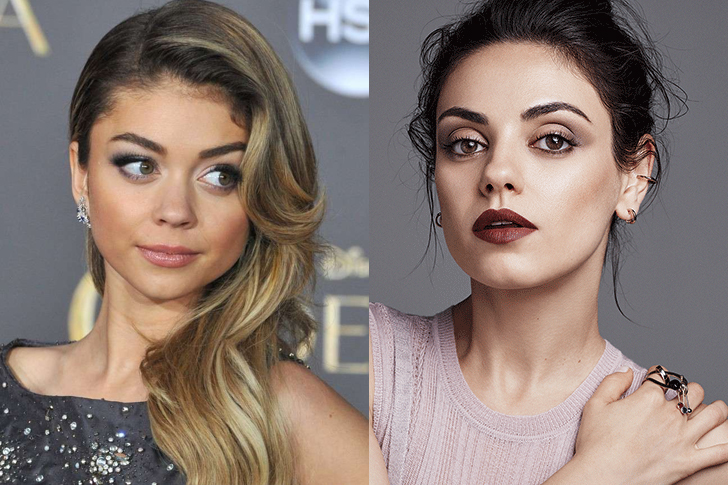 These next two actresses even want to pretend to be each other. Sarah Hyland is an American actress popularly known to play the role of Haley Dunphy on ABC's famous sitcom Modern Family. As for Mila Kunis, she became famous for playing Jackie Burkhart in That 70's Show when she was just 14 years old. These two look alike and even met in 2010. Hyland mentioned that Kunis sometimes pretends to be her because it makes her feel young.
Zooey Deschanel and Katy Perry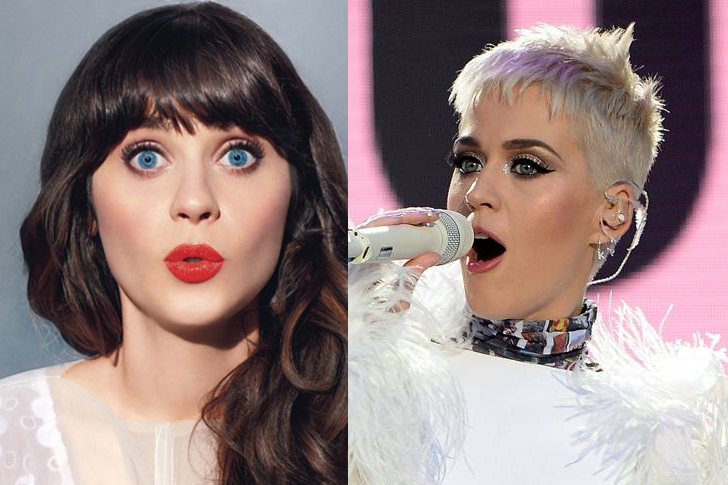 Many have noticed these two look like. Zooey Deschanel is one of Hollywood's prominent actresses, a singer-songwriter and a model. One of her most famous roles is playing the character of Summer in the movie 500 Days of Summer. Thanks to her multiple talents she has a $25 million net worth. As for her look-alike, who does not know her? Katy Perry is one of the most talented and well-respected artists in the music industry. With her talent, she has a net worth of $350 million. She has been considered by Forbes to be one of the highest-earning female artists. They both know how to deal with their finances well as no news of major loans and bankruptcy had surfaced.
Stephen Colbert and Bob Saget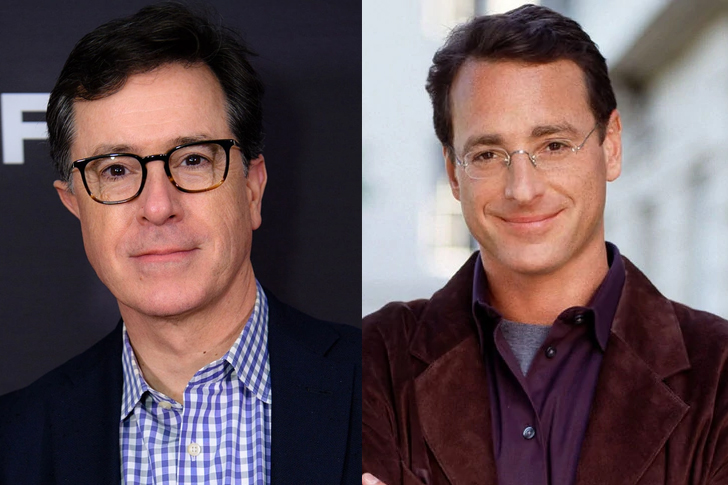 These two do not only look alike but also share the same career and talents. Stephen Colbert is an American comedian, producer, political commentator, actor, television host, and writer. With that massive talent, he has a $45 million net worth and is clear from loans and bankruptcy. He is quite famous for hosting the satirical Comedy Central program The Colbert Report. As for Bob Saget, he is also an American stand-up comedian, television host and an actor. He has been known for hosting America's Funniest Videos which ran from 1989 to 1997. He had a whopping $100 million net worth.
Helen Mirren and Jennifer Lawrence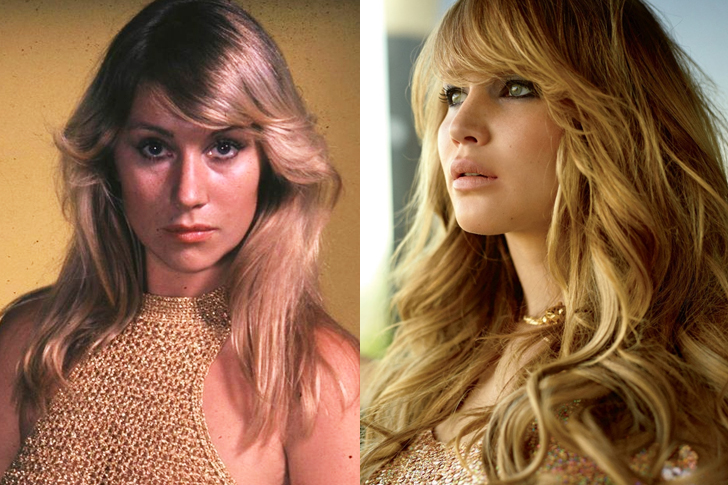 In 2013, Jon Stewart noticed the resemblance of Helen Mirren and Jennifer Lawrence when Lawrence visited him in The Daily Show. For you who do not know, Helen Mirren is an English actor. She started her career with the Royal Shakespeare Company back in 1967. She is among the few actors who have achieved the Triple Crown of Acting. As for Jennifer Lawrence, she is one of the prominent actors in Hollywood today. Her films have grossed over $6 billion worldwide, and she is reported to be one of the highest-paid actresses in the world in the years 2015-2016. With her great talent in acting, she has a net worth of $130 million.
Selma Blair and Kris Jenner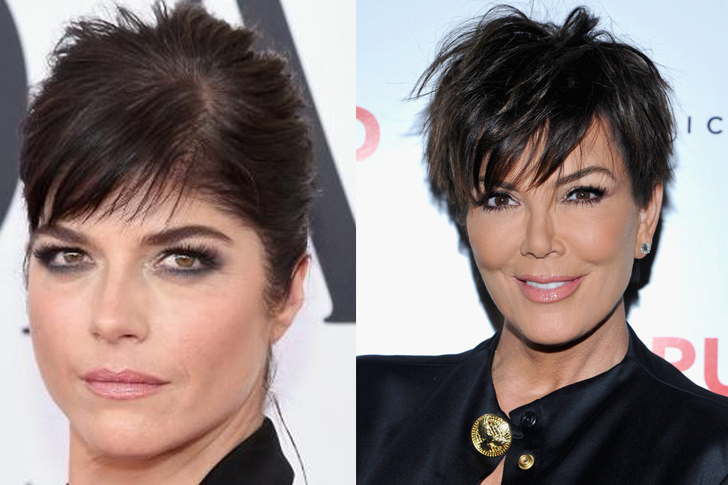 People have not noticed the resemblance of Selma Blair and Kris Jenner until Blair was cast as Jenner in the miniseries American Crime Story: The People v. O.J. Simpson. Before obtaining recognition for her role in the film Brown's Requiem, Selma Blair first played a number of small roles. Kris Jenner, on the other hand, rose to frame in the reality television series, Keeping Up with the Kardashians. Aside from being an entertainment personality, she is also a producer, businesswoman, author and entertainment manager. With that, she has an estimated net worth of $60 million.
Amber Heard and Scarlett Johansson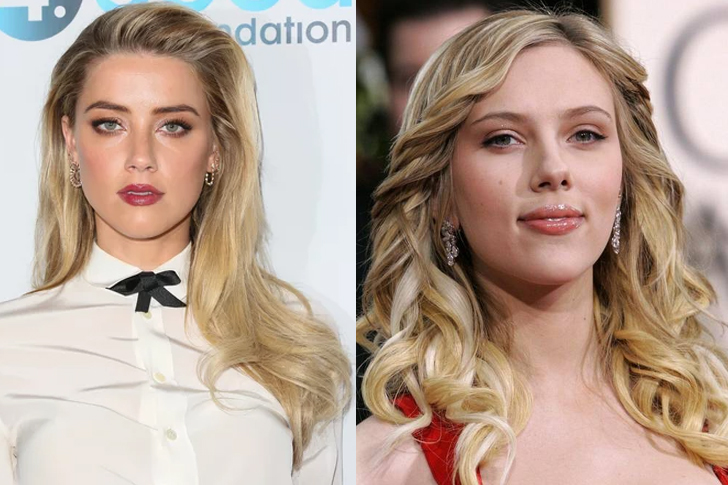 These next two have a lot in common. From their blonde coifs to their dashing pouts, both are almost identical. Actress and model Amber Heard made her film debut with a minor role in the sports drama Friday Night Lights. It was then followed by a series of small roles in both television and film. As for Scarlett Johansson, she is one of the highest-paid actresses that she even has a star on the Hollywood Walk of Fame. Johnson already has a whopping $120 million net worth. After all, she is Black Widow in the movie series The Avengers.
Natalie Portman and Keira Knightley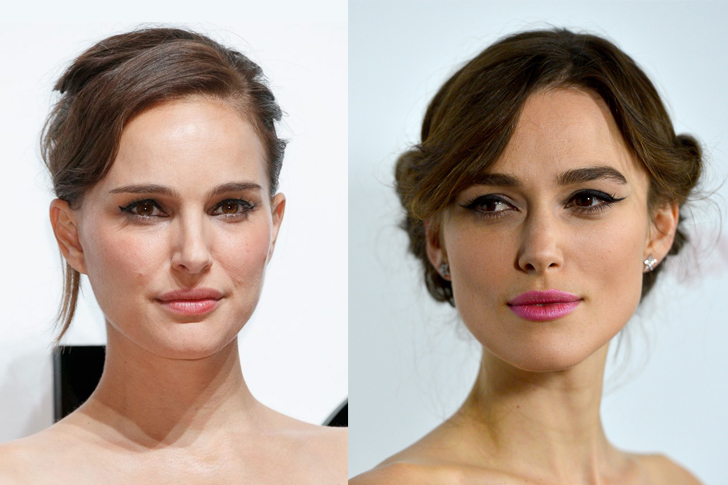 Back in 2014, Keira Knightley mentioned to Graham Norton that she is often confused as Natalie Portman. "I feel quite sorry for her because she must get chased a lot! It's happened like five times where someone's been like, 'Natalie! Natalie! Natalie!' And I'll sign and take a picture as Natalie." As an actress, Knightley has a $60 million net worth. As for her doppelganger, Natalie Portman also has a $60 million net worth. They both have an identical face and also have identical finances. Surely, both of them are good with money management as they do not have any signs of bankruptcy.
Lily Collins and Jennifer Connelly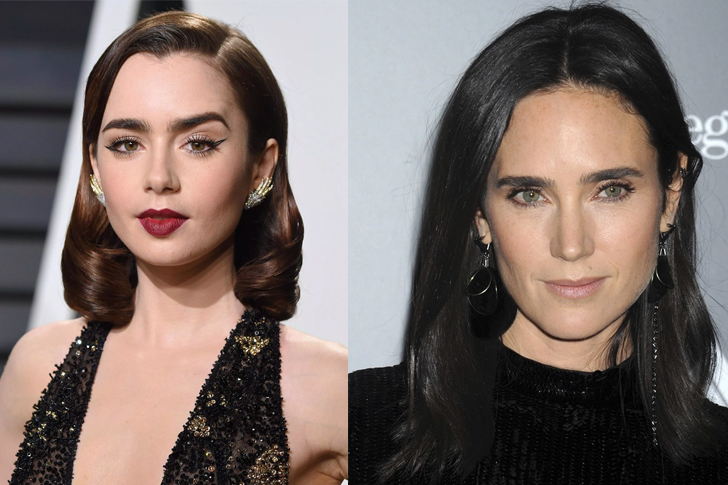 These two brunettes who happen to have a similar striking eyebrow even once played as mother and daughter in the 2013 film Stuck in Love. Lily Jane Collins is a model, writer, and actress. She is actually the daughter of Phil Collins. Her first screen role was when she was just two years old. She is part of the BBC series Growing Pains. As for Jennifer Lynn Connelly, she started her career as a child model. She appeared in television advertising, magazine, and newspaper, before she made her film acting debut in the crime film Once Upon a Time in America.
Margot Robbie and Jaime Pressly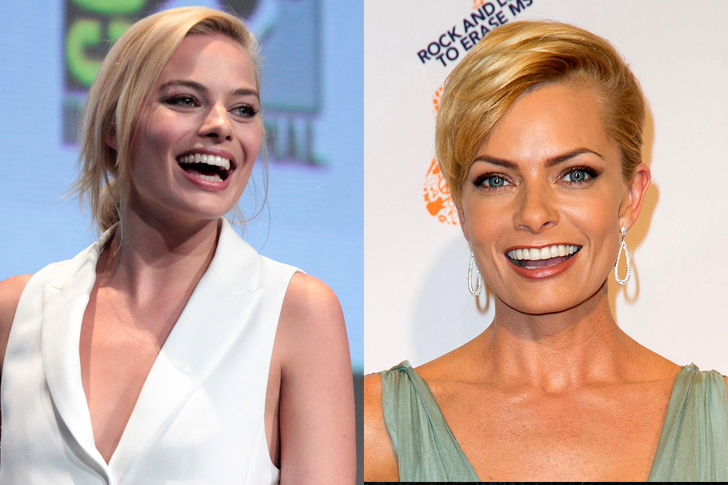 The Wolf of Wall Street star and the My Name Is Earl actress have practically the same facial features. Margot Robbie is not only an actress but is also a film producer. She has received nominations for an Academy Award and three BAFTA Awards. Time Magazine named her as one of the 100 Most Influential People in the world in 2017. Her net worth is $12 million. Jaime Elizabeth Pressly, on the other hand, is also an American actress and model. She has been nominated for two Emmy Awards, a Golden Globe Award, and a Screen Actors Guild Award.
Dax Shepard and Zach Braff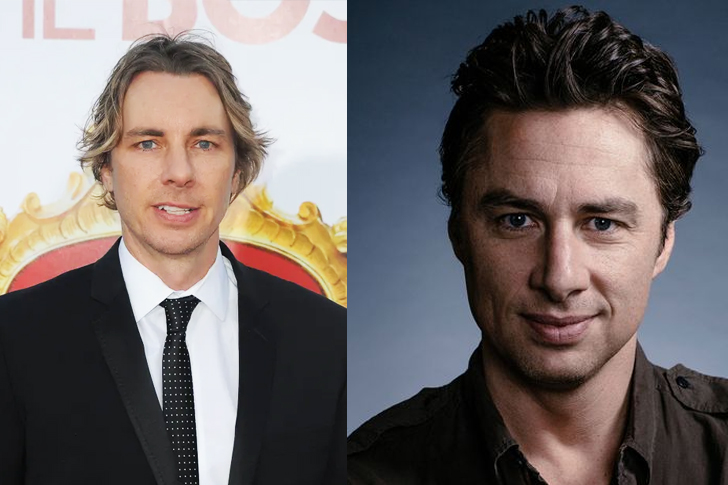 Zach Braff has mentioned that he is often mistaken to be Kristen Bell's husband, Dax Shepard. Shepard is a writer, actor, podcast host and director. He is best known for his work in the feature film Without a Paddle, Employee of the Month, and Hit and Run. As for Zach Braff, he is also an actor, screenwriter, producer, and director. He is most famous for playing the role of J.D. on the television series Scrubs. With that, he was nominated for the Primetime Emmy Award for Outstanding Lead Actor in a Comedy Series in 2005 and for three Golden Globe Awards from 2005 to 2007.
Edie Falco and Ellen DeGeneres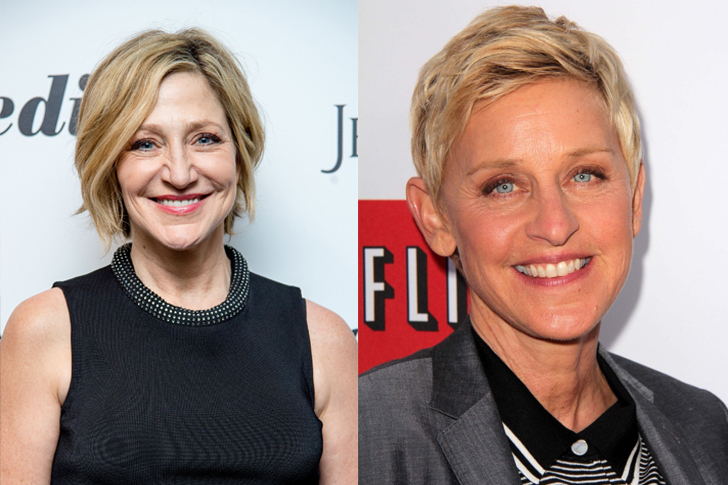 Edie Falco is a film, stage and American actress who is known for her role as Diane Whittlesey in the HBO series Oz. She also proves herself when she performed her role as Carmel Soprano on the HBO series The Sopranos, in which she had received six Emmy nominations and won three for Outstanding Lead Actress in a Drama Series as well as winning two Golden Globes and five Screen Actors Guild Awards. As for Ellen DeGeneres, she is one of the most respected women in Hollywood. She has a net worth of $450 million for being an actress, comedian, television host, writer, and producer.
Minka Kelly and Leighton Meester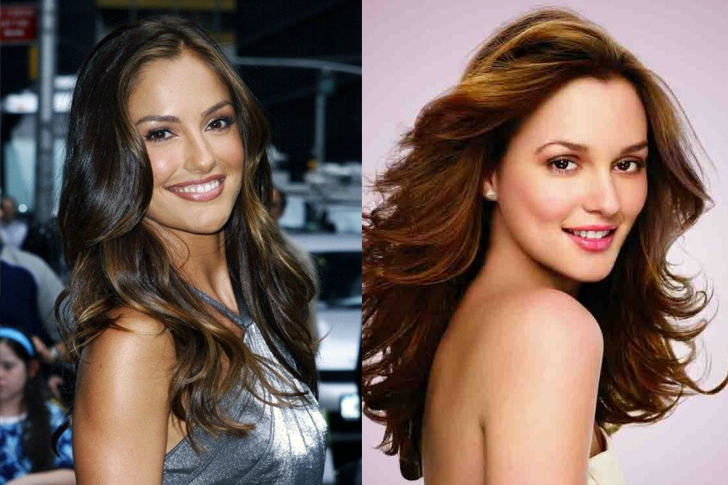 These two are practically twins. The Friday Night Lights star, Minka Kelly and the Gossip Girl actress even share the same college room in the film The Roommate. Minka Kelly is the daughter of the former guitarist of Aerosmith, Rick Dufay. She first starred in the NBC drama The Friday Night Lights and appeared in movies and different series. As for Leighton Meester, she is a model, songwriter, and actress. She is famous for playing the role of Blair Waldorf on CW's teen drama series Gossip Girl. These two must have managed their finances well as they don't seem to experience hardships with their finances.
Angelina Jolie and Megan Fox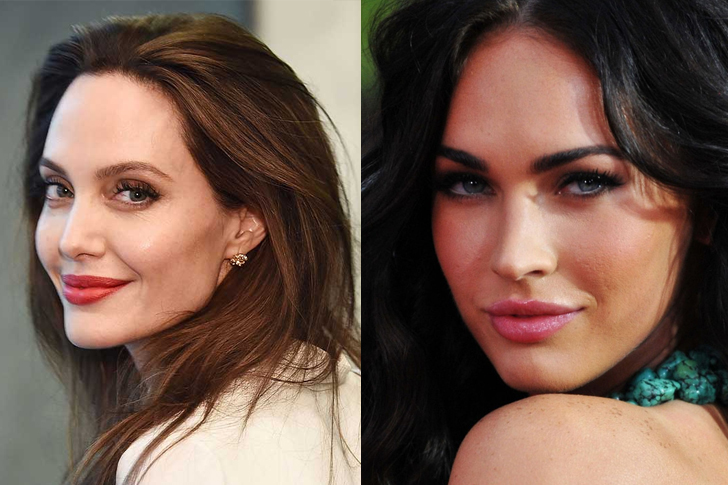 If you don't know these next two lookalikes you must be living under a rock. Angelina Jolie is one of the most prominent actresses in Hollywood. One of her unforgettable roles is when she played Lara Croft in Tomb Raider. Thanks to her talent she has a $100 million net worth. Not only is she an actress, she is also busy with her humanitarian work. As for Megan Fox, one of her famous roles is when she joined the teen comedy movie Confessions of a Teenage Drama Queen. It must be the lips and the distinctive facial features that made them look alike.
Kyle Richards and Kacey Musgraves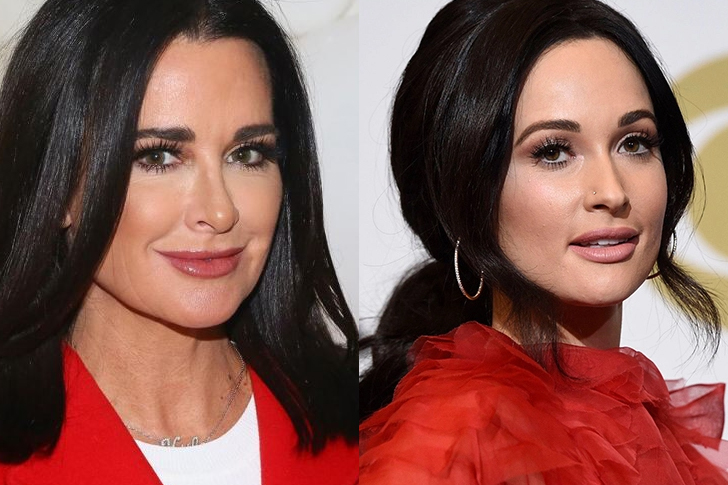 Kyle Richards is not only an actress but also a television personality, socialite philanthropist and memoirist. Her career began as a child actress, when she appeared in a recurring role on Little House on the Prairie. Since 2010, she is one of the main cast members on the popular show The Real Housewives of Beverly Hills. According to reports, she is the last remaining original member of the show as of 2019. On the other hand, Kacey Musgraves is an award-winning singer and songwriter. With her talent, she was able to win six Grammy Awards, three Academy of Country Music Awards and four Country Music Association Awards.
Katherine McPhee and Sophia Bush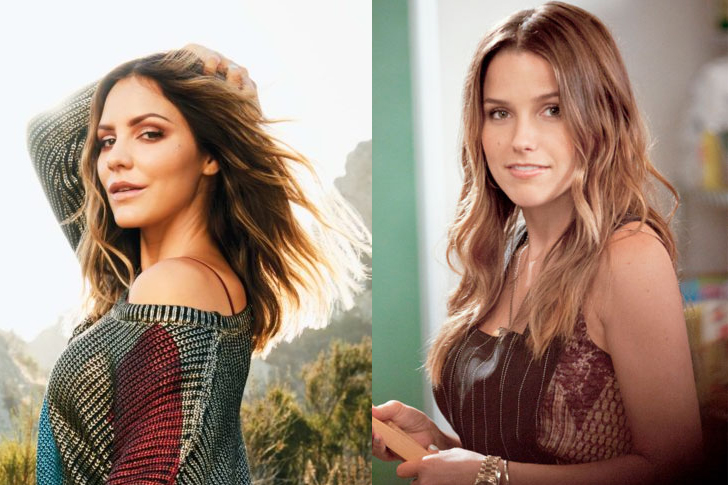 These two have a funny story. It is when a reporter calls over Katherine McPhee for an interview but refers to her as Sophia. She later then address the error "if there's ever a @sophiabush biography, y'all know who to call…" she jokingly captioned the video of the incident. As many would know, Mcphee is an actress, songwriter, and singer. Her self-titled debut album was released on RCA Records in 2007. She landed number two on Billboard 200, selling 380,000 copies of her album. As for Sophia Bush, she was famous for playing the role of Brooke Davis in One Tree Hill. She also got multiple roles in TV and movies.
Darren Criss and Kit Harrington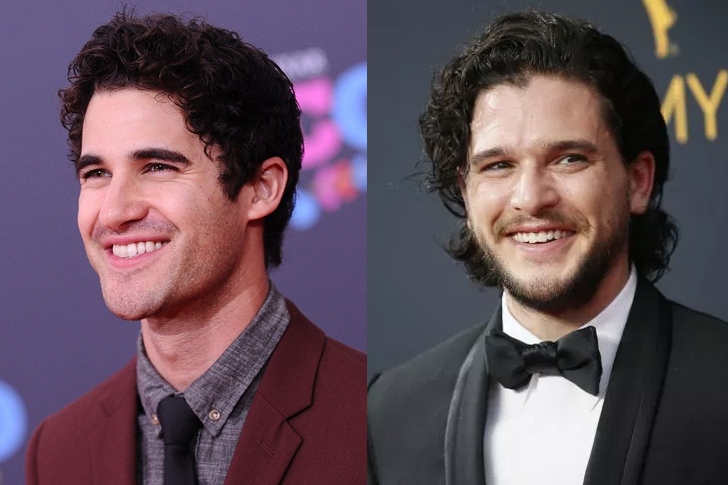 Darren Criss is famously known for his portrayal of Blaine Anderson on the Fox musical comedy-drama series Glee. He appeared to be the lead vocalist of Glee's Delton Academy Warblers. His first number, which is the cover version of Teenage Dream became the fast-selling Glee single and hit the number eight spot on the Billboard Hot 100. As for Kit Harrington, he also is pretty much successful for playing the role of Jon Snow. He is one of the most loved and hated characters in Game of Thrones. These two do not only share some resemblance but also are pretty much successful in their respective careers.
Bella Hadid and Carla Bruni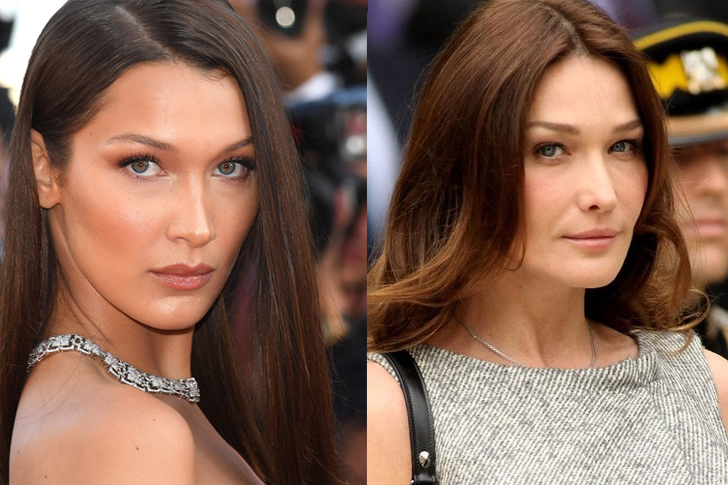 Carla Bruni and Bella Hadid are pretty much identical! They also share the same careers. Carla Bruni is an Italian-French supermodel in the 90s. She is the former First Lady of France as well. Bruni even shared that look-alike status on her Instagram to share it with her followers. As for Bella Hadid, she is one of the most prominent models today. In just four years of her career, she already had 35 appearances on international Vogue magazine covers. She was also branded the International Model of the Year by the British Fashion Council in 2016. These two also had no problem with regards to their finances as they are working hard and are managing it well.
John Mayer & Antoni Porowski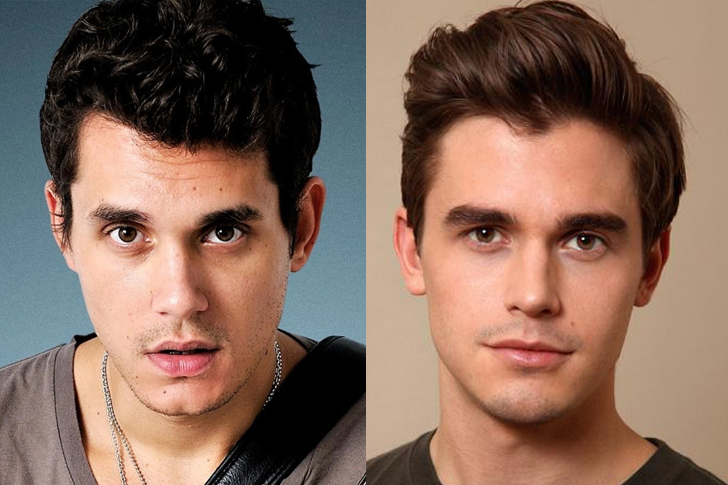 These two really look alike. The Queer Eye star Antoni Porowski posted an Instagram photo posing just like John Mayer, with the caption "'I dunno, guys, I just don't see it.'" His followers must have been confused that he posted a side by side photo with the famous musician. It can be seen that the two do look identical. John Mayer is a famous musician that had a lot of awards. These include a Grammy Award for Song of the Year, Best Pop Vocal Album, Best Solo Rock Vocal Performance and Best Male Pop Vocal Performance.
Gus Kenworthy and Richard Madden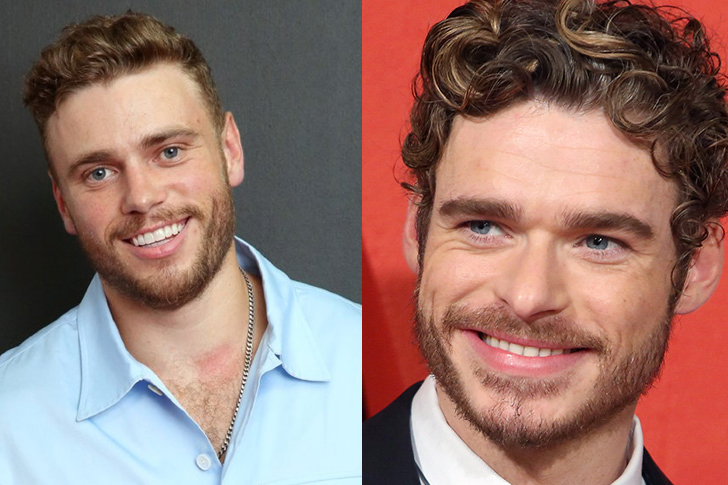 These two are called kings for different reasons. Olympic freestyle skier Gus Kenworthy is a king in his sport, while his celebrity doppelganger is also a king of Westeros. Playing the role of Rob Stark, Richard Madden is one of the loved characters in the TV series Game of Thrones. However, his role was cut short when his character died. It became quite a shock to a lot of fans. These two had a lot of resemblances. Kenworthy even called out Madden in his social media saying "Uh oh, they're on to us…" Safe to say these two are pretty much aware of their resemblance.
Ed Sheeran & Prince HARRY
These two have the cutest lookalike incident. Prince Harry, bubbly as he is, left a bunch of schoolgirls giggling when they asked him if he was the real royal. During the Commonwealth Day in 2017, the prince has stopped to talk to the 12-year-old Tiya Thornton. She told him that he looked like his fellow redhead Ed Sheeran. She asked the prince, "Are you the real Prince Harry?" He then replied, "Yes, the other one is Ed Sheeran." Needless to say, these two for sure does not have any problems with finances. After all one is a prince and the other one is one of the hottest singers today!
Ed Sheeran and Rupert Grint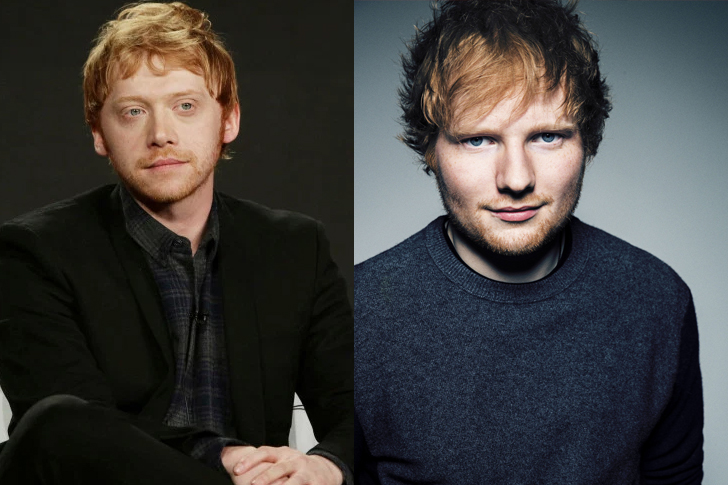 Prince Harry isn't the only one who looks like Ed Sheeran, Rupert Grint is also counted. Grint admitted to James Corden that almost 50 percent of his fans thought that he is Sheeran. He added that "if someone spots me, I could go either way." Not only are the fans of Grint confused, but even celebrities are also victims of this resemblance. Grint also shared that Leo Sayer, who is a British singer-songwriter, also made a mistake once. Grint shared that Sayer came up to him and said that he loved his music, of course thinking that Grint was Ed. Funny enough, Grint played along.
Mick Jagger and Harry Styles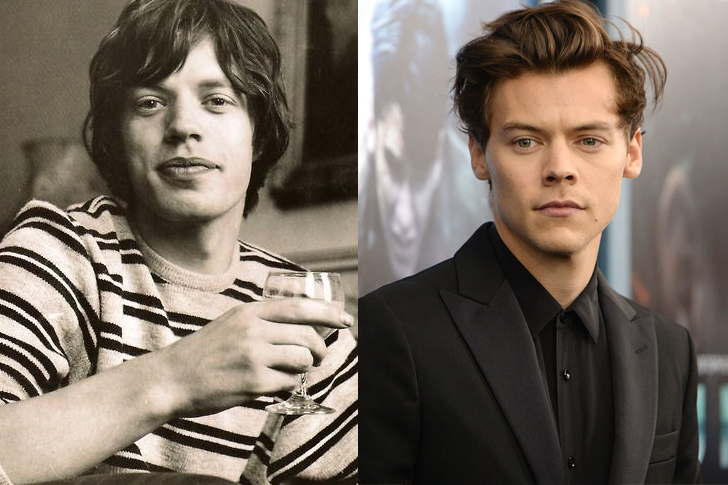 These two not only share some resemblance, but both also share the same passion. Mick Jagger is one of the iconic celebrities. He is an actor, songwriter, film producer and of course, singer. He gained worldwide fame as the lead singer and one of the founding members of the Rolling Stones. He had been described as "one of the most popular and influential frontmen in the history of rock & roll". As for Harry Styles, kids today definitely know him. He is one of the members of the British-pop group One Direction. With their good looks and great talents, they became an instant hit.
Jason Sudeikis & Ed Helms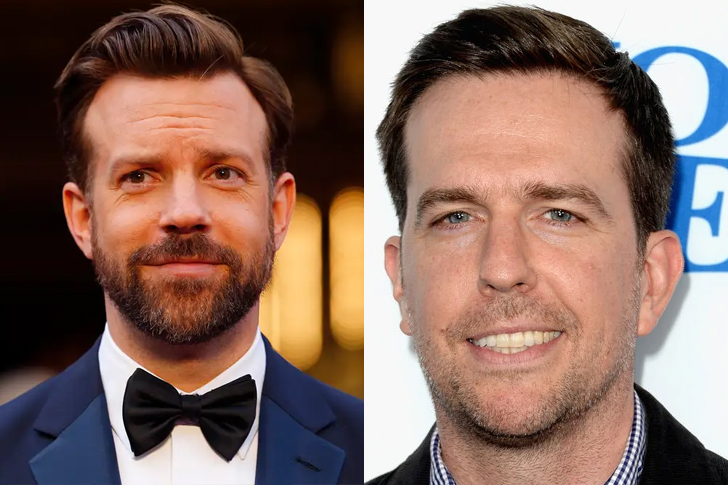 These two are also giving people a hard time on who's who. They also both share the same career, talent, and passion, which is acting and being a comedian. Jason shared that he had experienced an awkward run-in during the White House Correspondents' Dinner. The incident happened when a fellow attendee who had asked for a picture got confused and taken aback when he said that his name was Jason. Sudeikis then said "Did you think I was Ed Helms from The Hangover?" The fan then said, "Yes, but it's OK. You look enough like him." It must have been really awkward for Jason!
Jared Haibon & Ashton Kutcher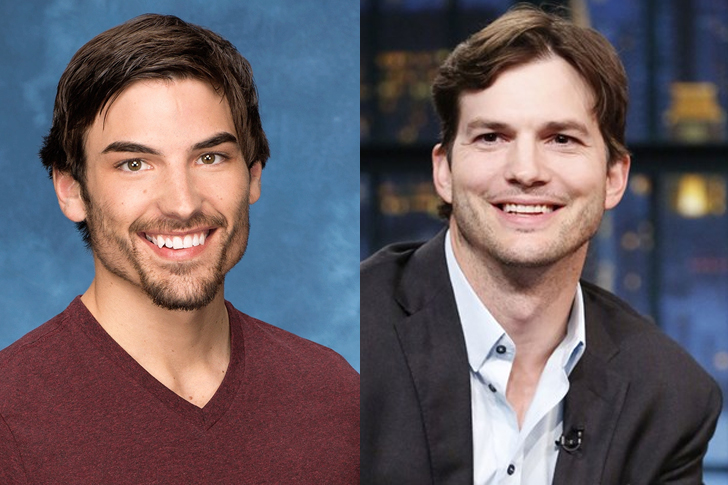 These next two lookalikes have been approved by Kutcher's wife Mila Kunis. Kunis had to get a side-by-side comparison of her husband, Ashton and the hunky contestant from Bachelor in Paradise, Jared Haibon. Ashton shared the snapshot and wrote on Twitter, "I'm trying to figure out why Mila is making me take this picture @ashleyiaco who are you? And who is this guy?" The resemblance was first noticed by the Paradise contestant Ashley Iaconetti. The equally chiseled jaws and cheekbones were pretty much seen as their resemblance. Iaconetti even mentioned in the show that Haibon looked like a mix between Joe Jonas and Ashton Kutcher.
Anne Hathaway & Amal Clooney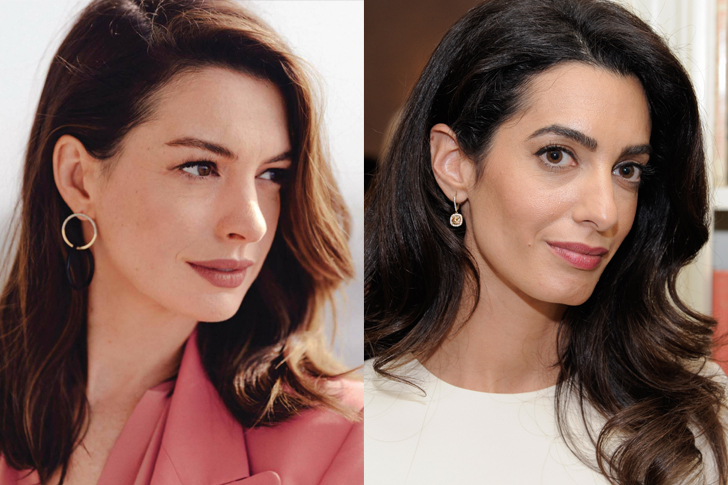 These two have a lot in common. Of which are their full lips, big brown eyes, and dark hair. They also are incredibly successful in their respective careers. Anne Hathaway is an award-winning actress and Amal Clooney has a huge name as a barrister. Clooney is a Lebanese-British barrister at Doughty Street Chambers. She specialized in international law and human rights. Hathaway even told Extra, when she was asked about her doppelganger, "I hope that I become half the woman that she is – she's so accomplished, and it's so thrilling to look at someone and be like, 'Oh, you really are making the world a better place.'"
You've Reached The End